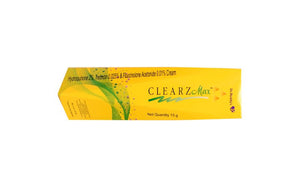 Clearz Max Cream 15gm (1 Tube)
Generic for
Clearz Max Cream
Active Ingredient Hydroquinone, Tretinoin and Fluocinolone
$18.99 USD

$18.99 USD
Tax included.
Shipping
calculated at checkout.
---
---
Clearz Max cream is a topical skincare product. It often contains active ingredients like Hydroquinone, Tretinoin, and Mometasone Furoate. Here's what each of these components typically does:
Hydroquinone: This is a skin-lightening agent used to treat conditions like hyperpigmentation, dark spots, and melasma. It works by inhibiting the production of melanin in the skin.
Tretinoin: Also known as retinoic acid, it is a derivative of Vitamin A. Tretinoin is used for conditions like acne and fine wrinkles. It works by promoting skin cell turnover and unclogging pores.
Mometasone Furoate: This is a corticosteroid, which helps to reduce inflammation. It's often used in combination with other active ingredients to address skin conditions like eczema or dermatitis.
Remember, it's important to use skincare products like Clearz Max cream as directed by a healthcare professional or as indicated on the packaging.