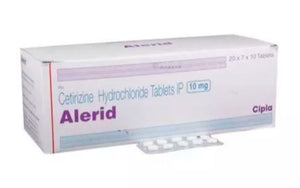 Alerid 10mg (30 Tablets)
Active Ingredient Cetirizine Hcl
$18.99 USD

$18.99 USD
Tax included.
Shipping
calculated at checkout.
---
---
Alerid is a brand name for a medication containing cetirizine. Cetirizine is an antihistamine used to treat allergic conditions such as hay fever, allergic rhinitis, and hives. It works by blocking the effects of histamine, a substance produced by the body in response to allergens.
Alerid tablets are commonly used to relieve symptoms like sneezing, runny or itchy nose, itchy or watery eyes, and itching of the throat or nose. They are available over-the-counter in many places, but it's advisable to use them under the guidance of a healthcare professional, especially if you have any underlying medical conditions or are taking other medications.