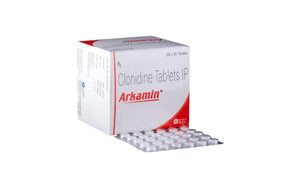 Arkamin 100mcg (30 Tablets)
Active Ingredient Clonidine Hcl
$18.99 USD

$18.99 USD
Tax included.
Shipping
calculated at checkout.
---
---
Arkamin is a brand name for a medication containing clonidine. Clonidine is classified as an alpha-2 adrenergic agonist, which means it works by stimulating certain receptors in the brain that help lower blood pressure.
Arkamin tablets are primarily used to treat high blood pressure (hypertension). Additionally, clonidine is sometimes used in the management of withdrawal symptoms from opioids or to alleviate certain psychiatric conditions.
If you have been prescribed Arkamin (clonidine), it's important to follow your healthcare provider's instructions regarding dosage and any specific guidelines associated with your treatment. Regular follow-up appointments are recommended to monitor your blood pressure and address any concerns or side effects.