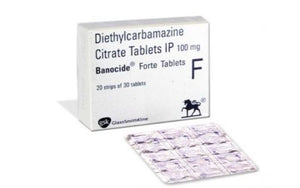 Banocide Forte 100mg (30 Tablets)
Generic for
Banocide Forte
Active Ingredient Diethylcarbamazine
$18.99 USD

$18.99 USD
Tax included.
Shipping
calculated at checkout.
---
---
Banocide Forte is a brand name for a medication called Diethylcarbamazine (DEC). It is primarily used to treat infections caused by certain types of parasitic worms, such as lymphatic filariasis (elephantiasis) and certain types of roundworm infections. This medication works by immobilizing and killing the worms, allowing the body to eliminate them.
As with any medication, it's important to take Banocide Forte exactly as prescribed by your healthcare provider.