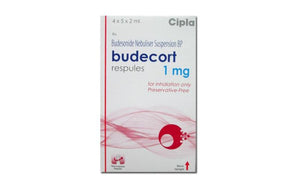 Budecort Respules 1mg (30 Respules)
Generic for
Pulmicort Respules
Active Ingredient Budesonide
$21.99 USD

$21.99 USD
Tax included.
Shipping
calculated at checkout.
---
---
Budecart Respules contain the active ingredient budesonide, which is a corticosteroid medication used to treat respiratory conditions like asthma. It works by reducing inflammation in the airways, making it easier to breathe.
Budecort Respules are typically used through a nebulizer, a device that converts the medication into a fine mist for inhalation. This allows the medication to reach the lungs directly.
If you have been prescribed Budecort Respules, it's important to use them as directed by your healthcare provider.