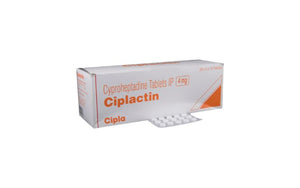 Ciplactin 4mg (30 Tablets)
Active Ingredient Cyproheptadine HCL
$18.99 USD

$18.99 USD
Tax included.
Shipping
calculated at checkout.
---
---
Ciplactin tablets contain the active ingredient Cyproheptadine, which is an antihistamine and appetite stimulant. It is used to treat conditions associated with allergies and to stimulate appetite in individuals who may have difficulty gaining weight.
Cyproheptadine works by blocking the action of histamine, a substance in the body that causes allergic symptoms. Additionally, it has the side effect of increasing appetite, which can be helpful for individuals who are underweight or experiencing a loss of appetite.
If you have been prescribed Ciplactin tablets, it's important to take them as directed by your healthcare provider. Follow the recommended dosage and any additional advice provided.