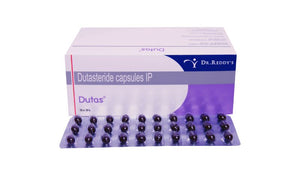 Dutas 0.5mg (30 Capsules)
Active Ingredient Dutasteride
$28.50 USD

$28.50 USD
Tax included.
Shipping
calculated at checkout.
---
---
Dutas capsules contain the active ingredient Dutasteride. Dutasteride is a medication used to treat benign prostatic hyperplasia (BPH), a condition in which the prostate gland becomes enlarged.
It works by inhibiting the activity of an enzyme called 5-alpha reductase, which converts testosterone to dihydrotestosterone (DHT). DHT is implicated in the growth of the prostate gland, so by reducing DHT levels, Dutasteride helps to shrink the prostate and alleviate symptoms associated with BPH.
If you have been prescribed Dutas capsules, it's important to take them exactly as directed by your healthcare provider.