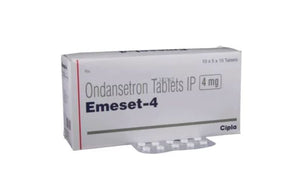 Emeset 4mg (30 Tablet)
Active Ingredient Ondansetron
$18.99 USD

$18.99 USD
Tax included.
Shipping
calculated at checkout.
---
---
Emeset  tablets contain the active ingredient ondansetron, which is an antiemetic medication. They are commonly prescribed to prevent nausea and vomiting caused by chemotherapy, radiation therapy, and surgery. Ondansetron works by blocking certain chemicals in the body that trigger these symptoms.
It's important to take Emeset tablets exactly as prescribed by your healthcare provider. They will provide you with specific dosage instructions based on your individual circumstances. If you have any concerns or experience any unusual side effects while taking Emeset, be sure to contact your doctor promptly.