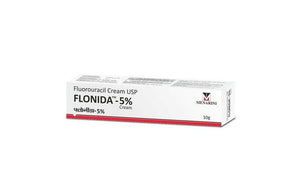 Flonida 5% (10 gm) (1 Tube)
Active Ingredient Fluorouracil
$18.50 USD

$18.50 USD
Tax included.
Shipping
calculated at checkout.
---
---
Flonida Cream belongs to the group of anti-cancer medicines used to treat skin conditions such as keratosis (growths of skin), some simple skin cancers, keratoacanthoma (a firm nodule on the skin), and Bowen's disease. It may also be useful in the treatment of superficial basal cell carcinoma.
Florida cream contains 'Fluorouracil', which works by destroying cancerous and pre-cancerous cells whilst having little effect on the normal cells.
Use Flonida Cream for as long as your doctor has prescribed it for you, depending on your medical condition. In some cases, Flonida 5% Cream 10 gm may cause side effects such as nausea, dizziness, headache, and taste disturbance. Do not be reluctant to talk with your doctor if any of these side effects persist or worsen.