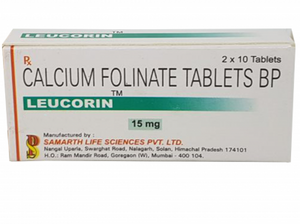 Leucorin 15mg (30 Tablets)
Active Ingredient Calcium Folinate
$23.99 USD

$23.99 USD
Tax included.
Shipping
calculated at checkout.
---
---
Leucovorin, also known as folinic acid, is a medication that is similar to folic acid, a B-vitamin. Leucovorin is used in medicine to help counteract the toxic effects of certain chemotherapy drugs, particularly methotrexate, which is used in the treatment of cancer and autoimmune diseases.
Leucovorin helps protect healthy cells from the toxic effects of methotrexate, allowing higher doses of methotrexate to be used for more effective cancer treatment. It's important to note that Leucovorin should only be used under the guidance of a healthcare professional and as part of a prescribed treatment plan.
If you have been prescribed Leucovorin, it's important to take it exactly as directed by your healthcare provider.