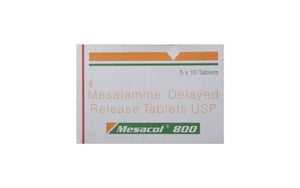 Mesacol 800mg (30 Tablets)
Active Ingredient Mesalamine
$32.99 USD

$32.99 USD
Tax included.
Shipping
calculated at checkout.
---
---
Mesacol is a brand name for a medication containing the active ingredient mesalamine, also known as 5-aminosalicylic acid (5-ASA). It is commonly used in the treatment of inflammatory bowel diseases (IBD) like ulcerative colitis and Crohn's disease.
Mesalamine works by reducing inflammation in the lining of the intestines, which can help control symptoms associated with these conditions.
If you have been prescribed Mesacol tablets, it's important to take them exactly as directed by your healthcare provider. Do not stop or change the dosage without consulting your doctor.