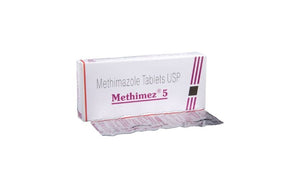 Methimez 5mg (30 Tablets)
Active Ingredient Methimazole
$18.99 USD

$18.99 USD
Tax included.
Shipping
calculated at checkout.
---
---
Methimez tablets contain the active ingredient methimazole. Methimazole is a medication used to treat hyperthyroidism, a condition in which the thyroid gland produces an excess of thyroid hormone. It works by inhibiting the production of thyroid hormones.
Methimazole is commonly prescribed for conditions like Graves' disease and overactive thyroid nodules. It helps to reduce the levels of thyroid hormone in the body, helping to alleviate symptoms associated with hyperthyroidism.
If you have been prescribed Methimez tablets, it's important to take them exactly as directed by your healthcare provider. Do not stop or change the dosage without consulting your doctor.