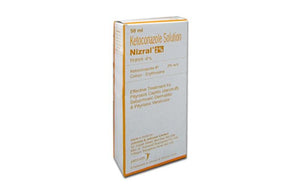 Nizral Solution 2% 50 ml (1 Bottle)
Generic for
Nizoral Solution
Active Ingredient Ketoconazole
$26.50 USD

$26.50 USD
Tax included.
Shipping
calculated at checkout.
---
---
Nizral solution contains the active ingredient ketoconazole, which is an antifungal medication. Unlike a cream, this form of ketoconazole is a liquid solution that is typically used topically to treat various fungal infections of the skin, such as athlete's foot, jock itch, ringworm, and seborrheic dermatitis.
Ketoconazole works by interfering with the formation of fungal cell membranes, ultimately leading to the death of the fungi.
It's important to use Nizral solution as directed by your healthcare provider or according to the instructions on the packaging.