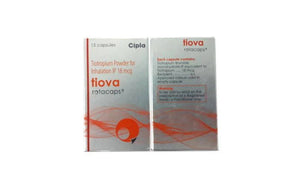 Tiova Rotacaps 18 mcg (40 Rotacaps)
Generic for
Spiriva Rotacaps
Active Ingredient Tiotropium Bromide
$21.50 USD

$21.50 USD
Tax included.
Shipping
calculated at checkout.
---
---
Tiova Rotacaps is a brand name for a medication that contains the active ingredient tiotropium bromide. It is commonly prescribed to manage chronic obstructive pulmonary disease (COPD), including chronic bronchitis and emphysema.
Tiotropium belongs to a class of drugs known as long-acting anticholinergics. It works by relaxing and opening the airways in the lungs, making it easier to breathe.
The Rotacap delivery system is a specific type of inhaler that delivers a measured dose of the medication in a dry powder form.
It's important to use Tiova Rotacaps exactly as prescribed by your healthcare provider.