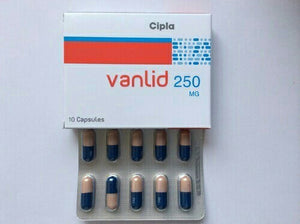 Vanlid 250mg (30 Capsules)
Generic for
Vancocin/Firvanq
Active Ingredient Vancomycin
$24.50 USD

$24.50 USD
Tax included.
Shipping
calculated at checkout.
---
---
Vanlid is a brand name for a medication called Vancomycin. It is an antibiotic used to treat bacterial infections. Vancomycin is typically reserved for serious infections caused by bacteria that are resistant to other antibiotics. It is often administered intravenously in a hospital setting.
As with any medication, it's important to take Vanlid exactly as prescribed by a healthcare professional and to complete the full course of treatment, even if you start feeling better.