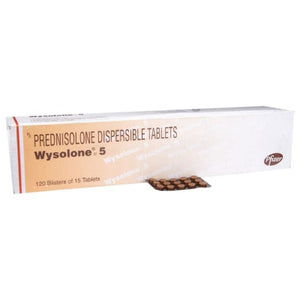 Wysolone 5mg Tablet DT (30 Tablets)
$21.99 USD

$21.99 USD
Tax included.
Shipping
calculated at checkout.
---
---
Wysolone is a brand name for a medication that contains the active ingredient Prednisolone. Prednisolone is a type of corticosteroid, which is a class of anti-inflammatory drugs. It is used to treat a variety of conditions involving inflammation, allergies, and immune system disorders.
Wysolone/Prednisolone can be prescribed for a range of conditions, including but not limited to asthma, arthritis, allergic reactions, and certain autoimmune diseases. It's important to take this medication exactly as prescribed by your healthcare provider, and to follow their specific dosage instructions.