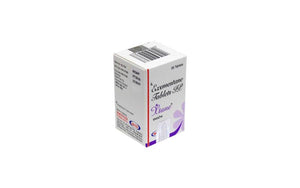 Xtane 25mg (30 Tablets)
Active Ingredient Exemestane
$21.50 USD

$21.50 USD
Tax included.
Shipping
calculated at checkout.
---
---
Xtane is a brand name for a medication called Exemestane. It belongs to a class of drugs known as aromatase inhibitors. Xtane is primarily used in the treatment of hormone receptor-positive breast cancer in postmenopausal women. It works by reducing the production of estrogen in the body, which can help slow down the growth of certain types of breast cancer cells.
If you have been prescribed Xtane (Exemestane), it's important to take it exactly as directed by your healthcare provider. They will provide specific dosage instructions based on your individual circumstances.